Understanding FTP
FTP stands for File Transfer Protocol. FTP is used to make files and folders available for transfer over the Internet. In order to use this feature, you will need to log in with your username and password.
Once you sign in, you will be able to transfer your files directly from your computer to our secure server.

FTP Clients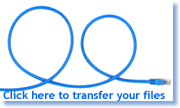 Please email an alert to let us know when you have transferred your files.