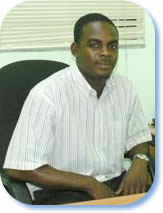 James Charts Road for New Newspaper Printery
With an investment of $2 million under his management, 27-year-old general manager of SVG Publishers Inc., Carl James says that he is ready to take the company up the road of success.
With a print run of 2,000 newspapers for Interactive Media Ltd (publishers of Searchlight) on August 3rd, the new printery, located in the Campden Park Industrial Estate, got its baptism after three years of planning and careful implementation.
"That printing was like our final exam, and now we are really excited and raring to go," said James as he expressed excitement that is worthy of the historic nature of the printery - the first full colour, newspaper printing press in St Vincent and the Grenadines.
James told SEARCHLIGHT that since he began working in August 2006, it has been a case of anticipating what was to come.
"We had to be trained, got everything in place, I tell you after that, the frustrating thing was when we were sitting and waiting for the press to be in order, when the press didn't come the way it was supposed to," Carl said.
"I am excited about leading this company and repaying the confidence that the board of directors has shown in me," said James, a former maintenance manager at the Port Authority, who earned his Bachelor of Science degree in Mechanical Engineering in Cuba.
Meanwhile Director Clare Keizer said that the investors in SVG Publishers Inc. have endured an extremely challenging two and a half years to be at this point.
"We don't think that it will be smooth sailing now, there will be new challenges ahead," Keizer said.
She said that it was always the dream of the founders of SEARCHLIGHT newspaper to own their own printery. However when it became clear that it could not be a solo effort, a partnership was formed with other local companies and the Nation Corporation of Barbados.
So as SVG Publishers moves forward, they will be looking forward to the development of a top class printery, offering a wide variety of first class printing services.
For now though, the SEARCHLIGHT and Vincentian newspapers will be printed here in St Vincent, truly a milestone achievement.
Managing Director of the SEARCHLIGHT, Norma Keizer put it best as she read one of the first papers printed during the test run: "It is a dream come true."